So here's a news flash, Internet: Roller Derby is awesome.
No, it's true.  I'm sure you have a million completely valid ill-informed misopinions on the subject.  "It's staged."  "It's just fat chicks on skates."  "It's just ugly chicks on skates."  "It's just stupid grrl power crap."  Well, those are all not only untrue and somewhat offensive, but also wrong and incorrect.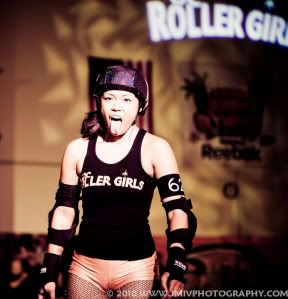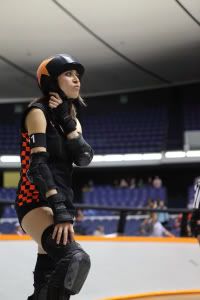 First of all, while Roller Derby used to be staged, like wrestling, the modern interpretation is not staged in any way.  Derby started out in the 1930′s as kind of a silly wacky faux-sport and eventually got some TV play and so on.  But in the early 2000′s, there was an amateur revival in Texas that soon spread across America and then around the world.  Despite some hiccups along the way, it's emerged as a true DIY (do it yourself) athletic movement with a punk rock aesthetic.
As to the "all those chicks are ____" stereotypes, that's not only incorrect, but also not the point (and seriously, offensive).  Despite the costumes and pageantry of it, and terms like "derby dolls" – that stuff isn't for you.  It's for them, the skaters.  The empowering personas let them leave their everyday life – whatever it is – behind and be free on the track.  They're not playing Derby to look hot or be seductive.  They're doing it to be part of a team, or feel strong, or to do something exciting, or any other number of reasons that don't involve being objectified somehow.
Which makes it sound all grrl powery, right?  But it ultimately doesn't come off that way.  They're not out to exclude men (plenty of male coaches, referees, and fans) or to shove how capable women are down anyone's throat–they're just women being capable.  I'm sure for a lot of derby girls it's a personal grrl power thing but "Roller Derby" as an entity is not out to change your personal political views on feminism.  It just does its thing which happens to be rad girls being rad.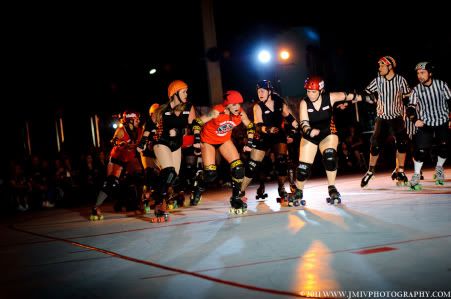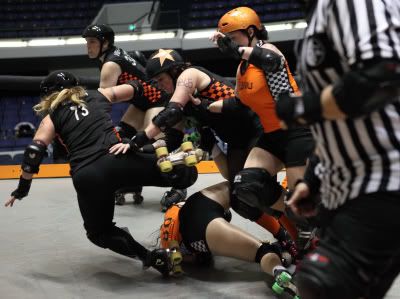 So okay, maybe you were wrong about Roller Derby.  But what exactly makes it awesome?
Awesome Thing # 1 – It isn't Baseball
I'm just not that into sports.  You think I would be, liking video games and rules and such, but they just don't appeal to me.  I have no desire to keep track of statistics or follow teams or pay a bunch of money to make a dude throw a hotdog at me.  Roller Derby isn't like that (though I am sure someone, somewhere is keeping track of statistics).  The DIY nature of the whole thing results in a nice non-pretentious crowd environment.  It doesn't take itself too seriously.  Nobody is going to get lynched in the parking lot by the other team's fans.  There is a "community event" aura about the whole thing, like little league or a high school drama production.  Everyone's a friend.  (I dunno, it's like X-Games meets UFC… or at least punk cynical Nascar.)
Awesome Thing # 2 – It's Inclusive
Anyone is welcome to watch Roller Derby.  You don't have to be a certain age, or into a certain scene, or (again) know every player's statistics.  Someone trying it out on a lark is going to have just as much fun as some guy who goes to every match and has all the girls' autographs.
On the same note, anyone is welcome to play Roller Derby.  Despite the image of the pierced, inked banshee–girls from all walks of life lace up the skates.  There are baristas who do it, burnouts who do it, pastors who do it, lawyers who do it, and so on.  And on the track they're all family.  That's pretty cool.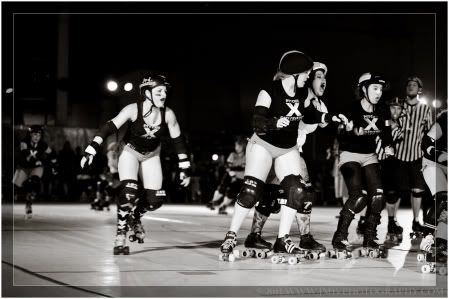 Awesome Thing # 3 – There are Puns
Derby Names are awesome.  To put the final touch on their persona, each girl comes up with a name.  They could come from anywhere… childhood nickname, a term of endearment, or just something random.  But they're normally super great puns, like Cherie Bomb, Ivanna Cocktail, or Lollerskates. You do not get better than this.
Awesome Thing # 4 – It's Hilariously Difficult to Explain
So there are rules, right?  Well, I'd love to explain them to you but they're more complicated than Quidditch.  Well kind of.  Once you know them, they're incredibly simple.  But that doesn't make them any easier to learn.  One of my favorite parts of any Derby match is that they start off by playing this instructional video so newcomers can follow along.  The humor being that it doesn't clear things up at all.  If anything it makes it seem even harder to understand.  Whenever I take someone to Roller Derby I have to assure them it's not as scary as the video makes it seem…
By all means, see for yourself.
A better way to explain it might be this diagram (because I made it myself)
There are 5 distinct phases of watching Roller Derby, and I'll go through them because it's fun to make lists.
Being completely intimidated by the video and thinking Derby is complicated.
Learning the rules and thinking Derby is entirely too simple.
Recognizing the subtle strategies and being frustrated the girls aren't doing what you think of.
Realizing it's because things are incredibly fast-paced out there, geez.
Joining the team (girls), volunteering to Ref (boys), or posting about Derby online (me)
So if you've ever been even the least bit curious about Roller Derby, I encourage you to look up your local team and check it out.  It's a blast, even if you only go once.  …though I personally guarantee all you ladies will at least consider signing up after that first night.
If you're intrigued but still shy, check out Whip It.  It not only holds to this week's theme of integrating Juno into my posts, but it also happens to be pretty decent.  (Though it fudges the rules a little bit.)
It didn't win any awards or anything, but it's an inoffensive story about a girl who finds herself by discovering Roller Derby.  It will also give you an idea how the game is played and the type of things involved.
It does focus on Banked Track Derby rather than Flat Track Derby (which is what I have experience watching).  They're basically the same thing, but banked track approaches the sport from a different angle (get it? angle).
And, you know, the general plot isn't exactly uncommon in the Derby world.  I know of at least one girl with a similar experience.  But remember: punching isn't actually allowed.  Solid B, would watch again.
Believe it or not, Konami made a Roller Derby game of sorts back on the NES – Roller Games!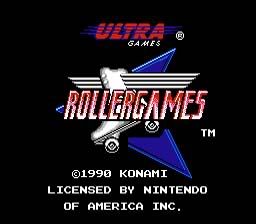 Unfortunately it's a brawler (?) based on the Japanese version of the old cheesy staged Derby, so you won't be encountering any super rad names like Contra-diction, Zoey Ender, or Heather May Sin.
(Photos taken from the OC Roller Girls website, also featuring Whip It poster and Roller Games title screen)